Action packed

spearfishing trips

in incredible Krabi, Thailand
Key
facts:
Price: £599 / $925 / €815 (approx per person)
Price includes: Potencial desert island stopover, 5 boat days.
Spearfishing awesomeness:  – but 5 stars for all-round holiday awesomeness!
Fixed dates or open: Both fixed and open.
Season: December to the end of April (peak season – but there is spearfishing for most of the year).
Group size: 3 – 4.
Boats: 7m fibre sports cruiser with Suzi 250 hp. See pics in the gallery below.
Guide and instructor available: Yes.
Targets: Spanish mackerel, just about all the trevally family, barracuda, cobia, queen fish, milkfish, Dorado and the odd wahoo in some areas.
Reef fish: grouper, mangrove jacks, bohars, golden snappers, etc.
Family friendly: 100% yes!
Why go
here?
Welcome to the land of smiles and without a doubt one of the most naturally beautiful locations on the planet. Like the skipper says, Krabi is never going to be regarded as the spearfishing 'hot spot' – there are far better places for the dedicated spearo targeting non-stop action. However – and it's a big however – most of those places don't have the natural beauty, year round hot weather and rich culture that Thailand offers. Krabi has crystal clear oceans like gin and the world's most diverse reefs that will blow your mind.
Thailand is warm year-round and rarely falls below 28 degrees in the South, where we're based on the Andaman Coast. We have 2 seasons: the hot season and the green (wet/monsoon) season. The hot season falls from the start of December to the end of April.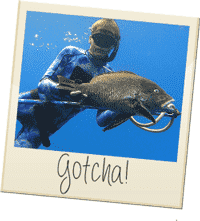 This is when the weather and sea conditions are more reliable. The Green (wet/monsoon) season starts early May to November end, when the winds change from gentle easterlies to stronger, monsoon westerlies. Quite often it can rain for days – even weeks – but we sometimes have weeks without rain. Obviously, the sea conditions at this time can prohibit venturing out.
There are many National Parks (NPs) and marine reserves in Thailand and the protected areas are increasing. We tend to frequent the islands and reefs that are away from the NPs – far less boat traffic and scuba divers. Much of the Krabi coastline (and a lot of the Thai coast in general) is in relatively shallow water up to 40m, prohibiting true blue water. We have some FADS that we sometimes go to as well. The nearby local islands are often beset with scuba divers, especially in high season (1st Dec – April end) and they don't always provide clean water. The better spots that we have discovered through years of spearfishing trips are between 45-90 kms off shore and the boat gets us there fast. For the furthest islands, being around 90km away, we usually go for two days, camping on a deserted beach. This allows us to dive till sunset and also at sunrise which is just phenomenal and often the best time to hunt. The closer spots at 45km can all easily be done in a day.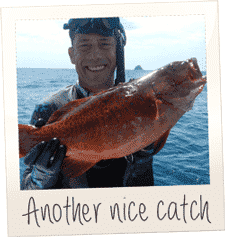 Yes you read that right…
We have king mackerel, just about all the trevally family, barracuda, cobia, queen fish, milkfish, dorado, the odd wahoo in some areas and all the usual tropical reef fish: grouper, mangrove jacks, bohars, golden snappers, etc. Beyond the spearfishing there is an infinite amount of activities to get involved regardless of if you are holidaying with friends or with the family. There are jungle treks where you will ride elephants, stay with local villagers and use rafts and explore the jungle in its unspoilt beauty as nature intended.
Krabi is also the central launching point to go off and explore the world famous islands of Koh Phi Phi and Koh Samui. Enjoy a full moon party or to take a boat to snorkel the reefs, everything is available and at fantastic prices. The evenings can be as wild or sophisticated as you fancy but ones thing for sure, it's one of those destinations that will always be kind on your wallet no matter what budget you're working to.
Ever wanted to camp on a
deserted desert island?
Cook what you catch on an open fire under the stars? Weather willing we can make it happen for you 🙂 There are heaps of remote desert islands around this incredible part of the world and we know them all. Guests willing and weather willing, it's become standard procedure to procure one for the ultimate 'the Beach' style experience.
Tired of all the crowds chasing the same dream of complete remoteness, away from civilisation but never ever getting close? Well we do it all the time! You just need a powerful boat, some supplies and great sense of adventure, plus a lot of local knowledge 🙂 Someone sets up the camp, gets the fire going while the others visit that super fresh seafood shop 10 metres away. We guarantee you will never forget this experience for as long as you live – it's the stuff films and dreams are made of.  We must stress however that this is down to the weather conditions on the day and as such, we can't guarantee it as safety will always come first.
Typical itinerary:
7 day
Day 1: Pick up and drop off at hotel (if needed). Relax and take in the culture.
Day 2: Assess conditions and spearfish / explore an island about 45K away.
Day 3: Camping on remote desert island after spearfishing all day if conditions allow.
Day 4: Spearfishing and relaxing all day on your very own island. Return before dark.
Day 5: Assess conditions and spearfish / explore an island about 45K away.
Day 6: Assess conditions and spearfish / explore an island about 45K away.
Day 7: Airport drop off or continue your holiday.
Many people enjoy mixing their spearfishing with a bit of snorkeling and general exploration of the islands via boat. We tailor the trips to you having the best holiday so just let us know what you have mind before you book 🙂
Accommodation
Accommodation can vary depending on what exactly you had in mind and your budget but we can help arrange and give you ideas if needed. From cheap beach houses to 5 star hotels, there is something for everyone.  The immediate area is crammed with restaurants offering a range of breakfasts so you will always be spoilt for choice.
Other
While the above prices are generally accurate there is always a bit of flux depending on exchange rate, accommodation add-ons and the final plan.  Get in touch to start planning your trip, let us know if you need help with accommodation.
As far as spearfishing trips go this is ideal for the people wanting to step up to the bigger stuff without it being too extreme like targeting marlin and 250lb tuna. That said, we sometimes withhold the right to add an instructor to ensure everyone has an exciting yet safe time. Should you prefer someone in the water with you to assist and coach then just let us know and we can discuss.
If you are short on equipment then don't worry as we have heaps of gear to rent or you can take advantage of the MASSIVE in store discounts. Anyone who goes on one of our spearfishing holidays is automatically entitled to huge discounts on all our spearfishing equipment and wetsuits.
Gallery